Wood Souvenir from Parris House

Accession #-DH326 Alexandra Gagnon, Danvers High School 2019 An engraved piece of wood that is from Reverend Parris household. The stick is engraved with a witch on a broom and three spikes. The writing says "The Salem Witch Trials 1692" and "This wood is from the house of Parson Paris"….

Postage Stamps

#- DH2541 Alexandra Gagnon, Danvers High School Class of 2019 The stamps pictured here are examples of the first ever American revenue stamps. They were first issued in 1862.  The design on the stamps is a profile view of George Washington, the very first president of The United States. Revenue…

Sabre and Scabbard

Accession #-1908.2.26 A-B Apollo Moony, Danvers High School 2019 This sword was given to the Society in 1908, having previously belonged to General F. S. Dodge. The blade itself has bright and dull finishes, and is engraved with an eagle which says "E pluribus Unum" ("out of many, one")  underneath…
Tapley Memorial Hall, built in 1930, houses the Society's large and varied local history collections.
The DHS collections are diverse and contain some remarkable artifacts. The DHS also holds an extensive collection of textiles, including a rare early 19th-century corset stay.
Hours and Tours
Tapley Memorial Hall, 13 Page Street, is open for special exhibits and can be opened during office hours, Thursday and Friday. Please check our events page for updated exhibits at Tapley Hall.
Tapley Memorial Hall a unique setting for showers, concerts, lectures, cocktail receptions, holiday parties and other special events.
For information about holding your event at Tapley Hall, please click here.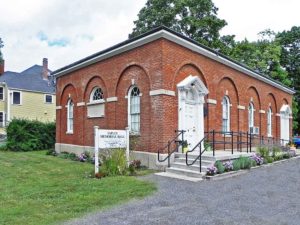 Collections Online
As part of Danvers High School's Senior Internship program, the Society's Come Grow With Us program welcomed Apollo Mooney and Alexandra Gagnon to the Page Street Campus to research artifacts in our collections at Tapley Memorial Hall and the Jeremiah Page House. Both programs provide students with a real world, career-oriented experience.
Apollo and Alexandra, having an interest in pursuing history in their future studies, chose a wide range of artifacts. Their narratives and photos will be seen here and on the Society's Facebook and Instagram feeds. They also exhibited some artifacts at their High School Internship Showcase. We welcome everyone to share their knowledge with us!