Tin and Wooden Boxes of Chalk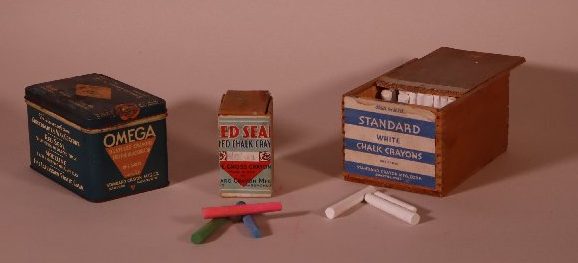 "Omega Dustless Crayons for the Blackboard, One Gross"
Materials: Tin and paint
When/Where: c. 1930s, Danvers, Massachusetts
Dimensions: 6 x 3 ½ x 3 ¾ inches
Accession #: 2003.14.1A and B
"Red Seal" Colored Chalk Crayons, No. 161, One Gross
Materials: wood, paper and chalk
When/Where: c. Danvers, Massachusetts
Dimensions: 3 ⅝ x 2 ⅛ x 3 inches
Accession #: 2020.27
"Standard White Chalk Crayons" Box
Materials: Wood and chalk
When/Where: c. Danvers, Massachusetts
Dimensions: 6 ⅞ x 4 ⅝ x 3 ¾ inches
Accession #: DH2625
In 1891 Joseph Hoyt started the Standard Crayon and Chalk Factory in Lynn and moved his company to Danvers in 1904. He moved into a former shoe factory on Putnam Street. Soon Danvers resident Captain Henry N. Conway joined Hoyt and became a partner in the company. By 1925 Conway was President of the company and started to make chalk as well as crayons and mechanized the production.
Standard Crayon Chalk Company became one of the largest manufacturers in the world. They were manufacturing thousands of crayons and chalk each day. The business kept growing and eventually Binney and Smith, Inc. bought the Standard Crayon/Chalk Company in 1944. Since 1885,Binney and Smith Manufacturing Company made art supplies including the famous Crayola crayons.
They kept the Danvers factory in operation until 1961, then turned the factory building into a warehouse to store products sold in the New England area.