Kindergarten Gift Sets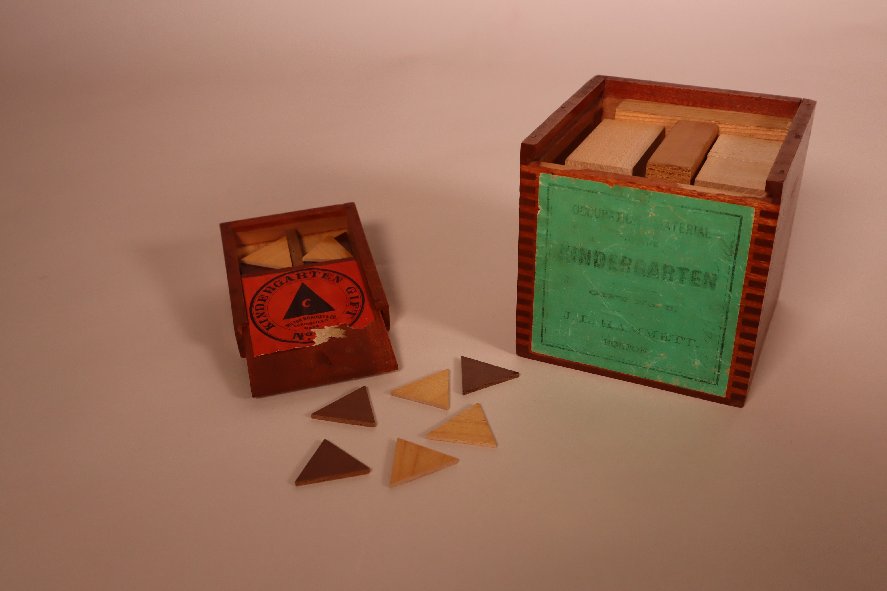 Kindergarten Gift Sets were developed by German educator Friedrich Froebel, who created the concept of kindergarten in 1840. The sets, used to introduce young children to spatial relationships, included geometric building blocks in Gift #6 and triangular prisms in #7.  These sets were purchased by Maud Whitman, who attended the Anne L. Page Normal School, located in Danvers.
The school was established by Page in the 1850s as the first school in Essex County to train kindergarten teachers using methods championed by Froebel. Page is honored for her educational work by Wellesley College, who built the Anne L. Page Memorial School for Early Education in 1913.
Kindergarten Gift Set #6
Maker: J. L. Hammett, Boston
Dimensions: 3 ⅝" x 3 ⅝" x 3 ⅜"
Accession #: 90.10.20
Kindergarten Gift Set #6 includes one inch square and triangle wooden
3-dimensional pieces.
Kindergarten Gift Set #7
Maker: Milton Bradley Co., Springfield, Mass.
Dimensions: 2 ½" x 3 ¼" x 9/16"
Accession #: 90.10. 16
Kindergarten Gift Set # 7 includes a parquetry set of one inch flat, wooden
triangles.