10am to noon, Wednesday 28th.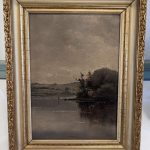 Found Artistry exhibit is aimed at opening a conversation with visitors, either by asking more questions or sharing the knowledge that we have. We may not be able to answer these questions right away but can surely take a moment to appreciate the history that built Danvers and be inspired to create more history for the future generation.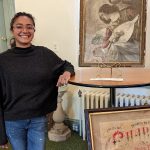 This new exhibit of paintings, photographs, and poetry curated by Anvi Shah, will be on display for a limited time. Meet the curator during the Monday hours: 10am to Noon.
Tapley Memorial Hall
13 Page St. Danvers MA, 01923

During the short time that I've spent at the Danvers Historical Society, I've met people from all age groups and backgrounds. All of them, collectively and individually, work to bring the community together, to preserve the diverse collections and to cultivate a seed of art in the young minds.
As I started looking through the two-dimensional objects, I anticipated finding 'oils on canvas' or 'photographic prints' at most. Instead, within these stacked frames I discovered the extent of talent the people of Danvers had. Ranging from bold and strong boy scouts to poets, from practicing embroidery at a young age to being professional cartoon artists, Danvers had it all. I questioned myself whether I would consider everything as "Art" per se and I realized that art revolves around the artist's community and a community is built by joint efforts and individuality of its residents. These selected pieces have also raised questions about the weather in the region around the mid-1900s or if lessons for Art and Music were given in schools or how often did people from different countries immigrated to settle with their families in this town?
We welcome your comments  ~  Anvi Shah, MFA Boston University