Our Plant Sale will take place for only two days! June 19 and 20 from 10-2 in the Glen Magna Farms parking lot 29 Ingersoll St Danvers Ma 01923!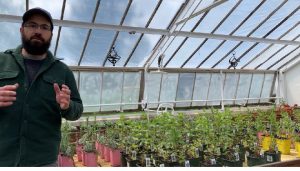 Dear Plant Sale Patrons,
Due to the current issues and safety measures regarding Covid-19, this year's annual Plant Sale will be for two days only! Glen Manga Farms Plant Sale offers unique plants you can't find at your local big box store or nursery. The theme of this year's plant sale is "Native Plants," they are adapted to our local environment. These plants are drought tolerant, which makes life easier during a water ban. Besides being less maintenance, native plants play a crucial role in helping the environment by providing food and habitat for local wildlife.  A full plant list will be available soon.
We are excited to have our plant sale and are ensuring safety of our customers, staff, and volunteers with these guidelines:
Wear a face mask and practice social distancing.
Merchandise in the parking lot only.
Payments accepted: debit/credit cards and checks, no cash accepted this year
Sincerely,
Matthew Martin, Buildings and Grounds Restoration Manager Danvers Historical Society