Saturday, 6to 7:30pm vocalist Paco sings holiday and pop/rock standards. Stop in and sing-along. Masks encouraged. 2022 trees and wreath details are viewable on-line here. $5 admission to support the Danvers Historical Society's community educational programs. Children under 15 free.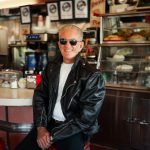 Paco is a full-time singer, actor and entertainer affiliated with Bristol Studios in Boston where he just recorded his tenth CD Album along with his fantastic 7-member "Paco Band". Their songs play regularly on the radio both in America and Internationally over AirPlayDirect out of Nashville, with many making it to "The Charts". His shows, whether solo or with his band, feature classic 50's & 60's "Oldies", and also Patriotic songs, Broadway, pop/rock and Christmas Standards. He is signed with Strega Entertainment of Boston, Nashville, LA & Las Vegas. He performs across the Country. Follow Paco's exploits on www.theworldofpaco.com. The first 37 years of his business life were spent as CEO of a major New England based green-building residential real estate firm. He resides in Gloucester, MA with his wife of more than fifty years and they are blessed with three wonderful children and five fantastic grandchildren.
2022 entertainment is in-person during the Parade of Trees. We hope to record much of it. View 2020 entertainment on our YouTube Page, and the DCAT television channels.