Kindergarten Block Gift Set #6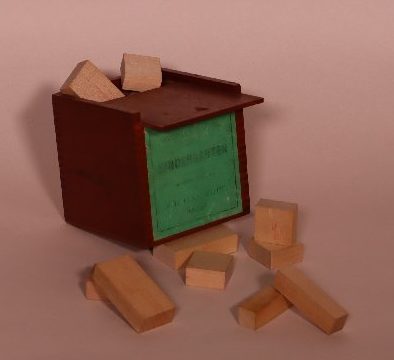 These Kindergarten gift sets were owned by Maud Whitman. In 1895-1896, Maud Whitman attended the Anne L. Page Academy for women to become future kindergarten teachers. As early as 1850, Anne established the first kindergarten school in Danvers and Essex County using similar pedagogy methods related to the German educator, Frederich Froebel. Each Academy student purchased these Kindergarten Gift Sets as educational play materials to be used in their future kindergarten classes.
Anne L. Page along with Elizabeth Peabody and Mary Peabody Mann formed the American Froebel Society. Their goal was to establish kindergarten schools as well as academies to train future teachers. Besides Maud Whitman, other graduates of the Anne L. Page Academy included Edith Lesley, founder of Lesley College.
In 1913 Anne's students who taught at Wellesley College raised funds to build the Anne L. Page Memorial School for Early Education which still exists today on the campus.