Each year, The Danvers Historical Society illustrates a local story with a blown glass ornament.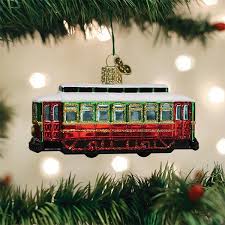 The Danvers Street Railway.
Beginning as a public service in 1880, the "Danvers Street Railway," more commonly known as the trolley, was a valued part of our town. For only 5 cents, one could get a ride across Danvers on one of these rail bound Trolleys. Danvers' rails ran down Maple, High, Sylvan, Elm, Centre, and Water streets before continuing onwards to Middleton, Salem, Peabody or Beverly for a few cents more.
At first, the cars were horse-drawn, but in 1892 the cars were replaced by electric cars, simply called "electrics," which is the design showcased by this year's ornament. Horse drawn cars reached 8 miles per hour, while the electrics reached speeds of 12 miles per hour.
Before cars became ubiquitous, these trolleys were an important part of many people's daily lives and commutes. They held up to 23 people, including the driver and attendant, and were the quickest, cheapest way to get to surrounding towns. Schedules were published on cards that were free to take at the stops.
Despite being funded by the town, all trolley cars, railways, horses, and even drivers were provided and cared for by the Naumkeag Street company. They also provided these things to every town with a trolley system; most towns in Essex county. Eventually, though, through several tumultuous mergers and rebrands, the Naumkeag Street company transformed into the MBTA we know today.
The trolley system was discontinued in 1937. The trolleys were stopped and the rails were torn up to be used for WWII manufacturing, but they remain an iconic part of Danvers' history.
~ Julian Marrero, with his thanks to Julie Silk in the Danvers Archival Center for assistance with this article.
Share your stories!
Visit the gift shop: Mon, Weds, and Fridays: 9am-1pm. Also Saturdays in December before Christmas.
See all our ornaments 
here
.