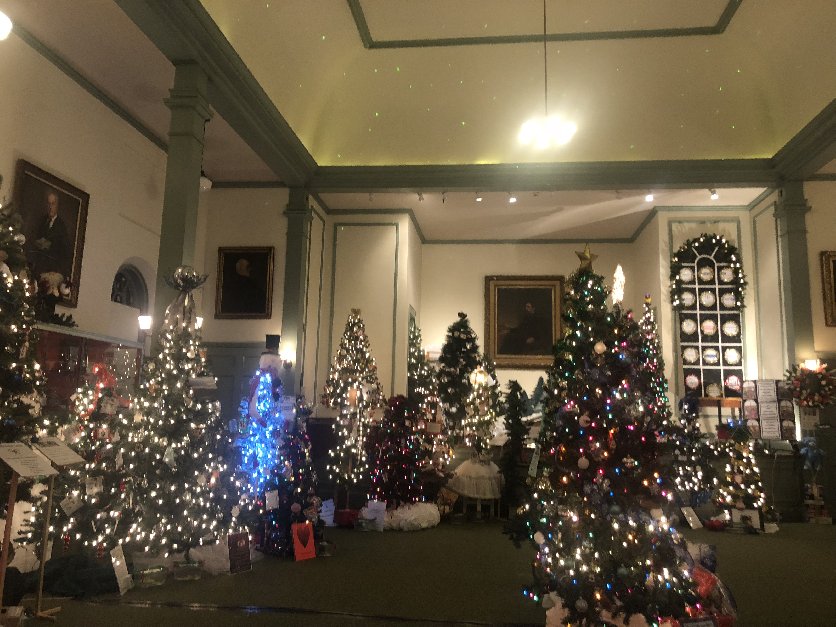 Wednesday, December 6th through Sunday, December 10th
The Danvers Historical Society invites you to usher in the holiday season at Tapley Memorial Hall, 13 Page Street, Danvers. Open hours are below.
A 4' tall gingerbread house with A cupcake shaped roof? An ice cream cone door? These are a few of the 16 "not your average" Gingerbread house designs you'll see on our stage at the Danvers Historical Society 15th Annual Parade of Trees. Walk our peppermint path to Tapley Hall to view and purchase raffle tickets to win one of the beautiful trees or wreaths donated by various businesses and organizations. Buying raffle tickets and viewing displays can also be done online on Rally Up.
Start the holidays with this festive event, run by the Danvers Historical Society, supporting its education mission. $5 admission. Children under 15 are free. The hall is filled with creatively decorated faux trees and wreaths crafted and donated by local businesses, organizations, and families. All trees and wreaths will be raffled off and winners notified by phone on Sunday. Raffle tickets are 10 for $10, and you may place those 10 chances on various displays at Tapley Hall. Proceeds go to the Danvers Historical Society community outreach programs.
2023 sponsors:  Thank you to Atlantic Semiconductor of Peabody, A.L. Prime Energy, Walmart, Bronze sponsor SalemFive Bank, Eastern Bank, and Silver sponsor Northeast Community Bank! All sponsors will be featured in our video tour of the holiday displays TBA.
NOTE: THIS WEBPAGE IS UNDERDEVELOPMENT FOR THE 2023 FESTIVITIES. 
There are many ways you can play a part to make this event a success:
• Donate a decorated tree or wreath here– or download this form here. See guidelines here
• Sponsor the Parade of Trees here or by this PayPal button:
• Donate a gift certificate or two here
• Volunteer your time during the event at Sign-Up Genius
Open viewing hours with $5 admission fee (free for children under 15) are as follows:
Wednesday, December 6th, 2-7pm
Thursday, December 7th, 2-7pm
Friday, December 8th, 2-8pm
Saturday, December 9th, 10am to 8pm
Sunday, December 10th, 10am to 3pm
Don't forget to donate for your chance to win a beautiful display by visiting in-person or on-line here. RallyUp begins December 6th and will close at 1pm, Sunday December 10th, to ensure all online purchases are accounted for so make your purchases early!
Visit this webpage often for developing details. Thank you!